Sports Chiropractic in Bellingham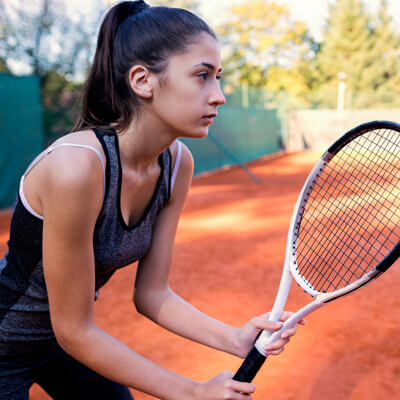 As a Certified Chiropractic Sports Physician, Dr. Keeler enjoys working with athletes of all levels to help them heal and recover from injuries. He was inspired to become involved in sports chiropractic care when he worked with a high-level gymnastics team. Through that experience, he came to understand how chiropractic care helps the body heal naturally and provides benefits that are very valuable to athletes.
One of his favorite success stories comes from one of his patients. She is in her late 50s and an avid Masters track and field athlete who performs at national and international levels. After working with Dr. Keeler, she noticed an overall improvement in her health and well-being, as well as fewer migraines, increased strength and flexibility, stronger immune response, fewer illnesses, and so much more. Dr. Keeler can do the same for you!
You don't have to be a professional or high-level athlete to benefit from chiropractic care at Advanced Health Center. Weekend sports enthusiast, amateur, competitive – whatever your level or preferred sport, Dr. Keeler can help. He has helped a snowboarder recover from low back pain so he could continue competing. He has worked with a professional football player with an Achilles tear and scapula fracture that could have ended a promising career. Sports chiropractic care helps your body heal better naturally, shortens your recovery time, reduces inflammation, increases muscle stabilization, improves joint function, and more.
Bellingham athletes who entrust their care to Dr. Keeler see many improvements in the health, performance, and well-being. Studies have shown that Chiropractic care is especially beneficial to athletes compared to traditional medical approaches because it:
Improves muscle coordination and function
Promotes healing and recovery
Boosts hand-eye coordination
Improves reaction time
Reduces reliance on medications and surgery
Decreases joint stiffness and pain
Promotes faster recovery from concussions
Reduces risk of scar tissue and limited range of motion
To put it simply, chiropractic care helps your body move better and heal naturally.
Sports injuries often require immediate medical attention. Once you receive this initial treatment at the emergency room or from your primary physician, schedule an appointment with Dr. Keeler. We will set up a personal consultation with him to discuss your injury and develop a personalized plan of care. Often times, Dr. Keeler works in conjunction with other medical providers and specialists to complement the overall course of treatment. He recommends ways that you can improve your recovery at home, through nutrition, and with treatments at our practice.
Why is Natural Healing Important for Athletes?

Many athletes pursue traditional modes of treatment only to find themselves reliant on medications and constantly recovering from surgeries. Their bodies do not perform at the same level as before the injuries, and they often give up on their passions, pursuits, and dreams. Dr. Keeler helps athletes do more than heal. He helps them regain, and even improve upon, their pre-injury performance levels.
Should Amateur Athletes and Weekend Sports Enthusiasts Have Chiropractic Care?

Yes! Non-professional and non-competitive athletes need the most support in their healing process. Injuries are most often addressed only with urgent care and emergency room visits combined with routine follow-up visits with their primary physicians. Their bodies develop scar tissue and other types of damage that negatively affect quality of life for years to come. With the help of Dr. Keeler, you can heal your body naturally so you can keep enjoying your favorite sports.
Learn More Today
If you have a sports injury, you deserve a holistic and comprehensive approach to recovery that considers your immediate and long-term outcomes. This is exactly what you will find at Advanced Health Center. Call us today at (360) 715-9010 to schedule a free personal consultation with Dr. Keeler.
Have more questions about sports chiropractic care? Give us a call!
CONTACT US

Sports Chiropractor in Bellingham WA | (360) 715-9010