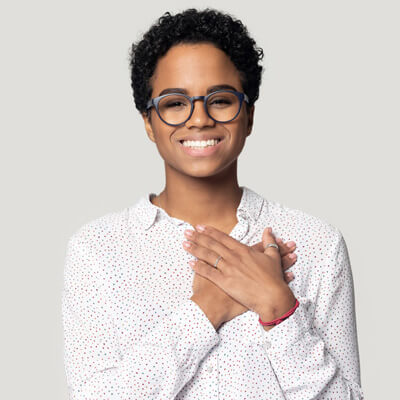 Advanced Health Center Reviews
What Our Bellingham Patients Say
At Advanced Health Center we love when patients share with us their feedback and comments after chiropractic care. Please read our patient testimonials below to see what other people have achieved through their tailored treatment plans with us.
Share your stories too! Click here to send us your feedback so that we can help to spread the word about the benefits of natural care with Advanced Health Center.
For more information, or to schedule an appointment contact us today.


Great Team and Office
Was referred to a chiropractor as my doctor felt pain was muskelskellital (sp) and the folks at the Hutch has tried to image the problem via CT and MRI to no avail. I therefore feel better that the pain is not as serious as some sort of internal organ tumor and therefore am assured I will not die of this malady. The sock thingy lindy used is most fun and gives me the same local relief as a back massage without the cost and time involved. Time being the functional word. Thank you Lindy for your kind support.
-Michael K.
Feeling Immediate Results
I was very pleased with the communication and effort to explain the treatments as well as being able to be seen for multiple issues within a single visit. This is not experienced at any other place I have been for help before. I am feeling immediate results and look forward to my next treatment.
-Jeff B.
Dr. Keeler is The Best!
Dr. Keeler is the best! After my son's appointment, he called the next day to check in. He has helped everyone in my family from my 9 year-old son to my 75 year-old mother-in-law. Every time we are stuck or confused with a medical issue/concern, Dr. Keeler has helped make it better. We are very grateful for his dedication to his patients and his practice.
-Rizos V.
Great Attention to Detail
I appreciated Dr Keeler's approach to helping me feel comfortable in a new experience, his attention to detail and the physical relief in the first session.
– Edward H.
Thank you, Dr. Keeler
I have received chiropractic care for decades. I saw Dr. Keeler for a first visit and the examination was in depth and very informational and much more in depth than I have gotten from any other chiropractor.
-Linda B.
Everyone was Very Professional
Everyone was very professional. They spent the time to help me from checking in, to understand what my problem might be.
– Anna S.
I Like the Parking
I am glad you carry my preferred supplements. I like the parking, too.
– Lisa F.
Extremely Knowledgeable
Dr. Keeler is extremely knowledgeable and very thorough. Highly recommended.
– Darin S.
Very Knowledgeable & Helpful
Dr. Keeler is extremely knowledgeable and an excellent communicator and teacher. His staff was friendly and very helpful. Highly recommended!
– Jeff B.
Excellent Relief
Dr Keeler is the best-from his office staff in the calming quaint remodeled home ..there is "peace" -when you enter—- Dr. Keeler knows what he's doing-excellent relief.
– Janet N.
All My Needs Addressed
I felt listened to and cared about and my several needs were addressed. I was given helpful exercises and clear explanations with visual cues. This was so helpful since I am a visual learner!
– Sue S.
His Techniques Provided Relief
So happy to have found Dr. Keeler. He took his time to really understand the nature of my back issues and used a variety of techniques to provide relief. I highly recommend him.
– Kathy C.
High Quality Professional Service
I am thoroughly pleased with my experience with Dr. Keeler, and would recommend him to anyone wanting a referral. He is friendly, thorough, highly skilled, and uses gentle yet very effective methods. He does much more than adjusting, as he checks for viruses and bacteria if needed, internal issues if needed, checks on the suitability of supplements for the body, and sells quality nutritional supplements. I can't say enough positive things about him!
– Sibyl
Grateful
Dr. Keeler is always respectful and effective in all of my treatments, even when the physical issues are challenging. I feel like he is really in my corner to help me gain greater health, and he has a healer's heart that I greatly appreciate! I highly recommend his work to anyone who is serious about feeling better! The office staff and the office itself are also very supportive to a great healing experience.
– JJ
Very Unique Approach to Chiropractic. Very Compassionate
I have been working with chiropractors most of my life. It has been helpful, but not healing. I was intrigued by Dr. Keeler's very comprehensive, and unique to my prior experience, way of assessing and treating a patient. I am excited to see where this will take me toward actual healing.
– Stacie
Compassionate
Dr. Keeler is so caring and understanding. He truly cares about his patient and he listens. He has helped me in my healing process and he is sooo encouraging. I can't thank him enough. I am on the road to recovery! Thanks Doc.
– Candyce
Highly Recommend
After being diagnosed with low testosterone, my MD recommended hormone replacement therapy. I was so eager for relief, I was ready to begin treatments right away; even though they were expensive and lifelong. My wife suggested I consult Dr. Keeler. He really listened to me and researched the issues I was having. He recommended a science-based regimen of diet, exercise, and supplements to increase my testosterone naturally. I followed the regime diligently and in about six weeks my testosterone doubled. My symptoms are gone and I feel great. My energy is back and my chronic digestive issues are resolved. I highly recommend Dr. Keeler.
– Gary, Firefighter
Routine Maintenance
One of the things I love about going to see Dr. Keeler is that I know that I will leave with a better body. It's a comfort to know that he is always super thorough and looks for solutions to problems that we may not even know that we have at the moment. I am very greatful for his ability to focus and see my body for what it is, and make it head in the direction it is naturally called forward. I will always recommend his services to anyone.
– Andrew
Sports Injuries
A variety of sports injury issues as well as migraines brought me to Dr. Keeler's office. I am a masters track and field athlete and compete at the national and international levels of indoor pentathlon and pole vault. As a result, I tend to push my performance and expect a lot out of my body. Through Dr. Keeler's treatment, I experienced accelerated recovery from injuries which give less down time and more training opportunities. My general performance overall is enhanced (faster, stronger, more flexible). Additionally I experience a better quality of motion everyday. Migraine frequency and severity have been reduced. Treatment has strengthened my immune system, and as such, I experience fewer illnesses, have more energy and my range of motion has been set free for life!
– Daphne
Another Way to Address Health
Since childhood I have been experiencing extreme embarrassment and pain when I would have an outbreak of cold sores on my lips. Originally I went to Dr. Keeler in Bellingham, WA for back pain, which he helped me with. While in Dr. Keeler's office I overheard him teaching other patients about the 6 steps to wellness. This peaked my curiosity! Long story short Dr. Keeler did a total body scan on me and made some interesting recommendations. Since following his recommended treatment, I have not had a cold sore break out. This has given me a lot more confidence to be out and around other people, and has saved me a lot of embarrassment. Thank you Dr. Keeler for teaching me another way of addressing my health.
– Julie
Dr. Keeler is Magic
I owe my life to Dr. Keeler. He is magic. I was able to stop taking medication for my back. No pain pills of any kind since Dec.1st. The healing power and the total detox was exactly what I needed. Your methods helped me get emotionally and physically strong. Thanks! I wish you were here in Redding, CA. I met a girl (23) who is where I was before you helped me. I wish you all a wonderful year! Thanks for being the only Dr. out of literally hundreds that helped heal me, mind, body, and spirit.
In the past, I have been to other Chiropractors. In conversing with other members in my trade of glass blowing, a friend spoke about how Dr. Keeler performed muscle testing and adjusted the whole being. I tried his methods and I have been coming back for years. After treatment, I always regain my range of movement and leave with a grounded sense of well being. An unexpected benefit was I realized my body can be younger with care. My two sons also come to Dr. Keeler for treatment. They both play soccer and benefit greatly.
– Christopher
Received My Life Back
For years I suffered with stomach pains and irregular bowel habits. This may not seem like a huge health challenge to some, however for me, it was interrupting my quality of life. Dr. Keeler's 6 step to wellness approach not only helped me with my abdominal problems, but it has helped my overall health. I now have more energy, no pain, and I don't get illness bugs that go around my workplace.
I received my life back with his care basically. I was in so much pain. I really like Dr. Keeler because he doesn't con you into coming and keep making appointments. He wants you to actually get better. Dr. Keeler is the ONLY chiropractor I would recommend. Hands down, the BEST!
– Melinda S.
High Quality Service
Very professional and caring office?I grew up in a family that valued good holistic medicine, and relied on good chiropractic care for many of our family's needs. During my adult life, I've visited various chiropractors, some who weren't so helpful and one who was outstanding. She helped both my husband and myself immensely with back and neck issues. When we moved to Bellingham, I didn't know how we'd replace someone so knowledgeable and caring. I feel very grateful that I was referred to Dr. Keeler after I jammed some vertebrae recently. He really listens and his treatments are helpful. The exercises he gave me to work on are helping both neck and shoulder pain and some intermittent finger numbness. I am so appreciative. I would definitely recommend him to others.
– Colleen O.
Best Place for Healing
This is the best place to get healed!? For me, being in the room with Dr. Keeler is the closest I've come to what my interpretation of being with a Doctor is supposed to be. We have a chat to catch up on things, then we talk about why I'm at his office today and what has changed since my last visit. He then goes about his business. No matter what you believe, you're in the hands of someone who cares about your well being and is diligently pursuing all means possible to try and get you back to being the best "you" that you can be. I'm very grateful to Dr. Keeler for being there over the years, and for also pointing out references for us to empower our own understanding of physiognomy.
– Andrew S.
Scientifically Based Holistic Treatment
I have major structural issues from an accident I was in. Dr. Keeler has helped me heal to a level I never hoped to attain. He never seems to run out of new things to try. By healing my body's structural and muscle issues, my anxiety and menopausal symptoms have also gone away. I am so grateful I was referred to him!
– Anonymous
Very Supportive Care
It's been very good to work with Dr. Keeler and his clinic staff. I feel very supported, my questions were clearly answered, and I have a plan moving forward to be well.
– Jane L.
Excellent Listener!
I really appreciate the fluidity of the team Dr. Keeler has brought together. Everyone was warm, professional, and very considerate. Dr. Keeler is an excellent listener to both the words and the body. I felt heard, supported, and hopeful after the first session and noticed a reduction of discomfort the next day!
– Helen L.

Advanced Health Center Reviews | (360) 715-9010